Benghazi Not Clinton's Fault Says Stevens Family
July 2016 - The family of U.S. Ambassador Chris Stevens, who was one of four Americans killed during the September 2012 attack on the U.S. consulate in Benghazi, Libya, does not blame former Secretary of State Hillary Clinton for the events of that night. In an interview with the New Yorker magazine's Robin Wright, Ambassador Stevens' sister Anne said the following:


"I do not blame Hillary Clinton or [former Defense Secretary] Leon Panetta…They were balancing security efforts at embassies and missions around the world. And their staffs were doing their best to provide what they could with the resources they had." Speaking for the family, Dr. Anne Stevens continued:


"The Benghazi Mission was understaffed. We know that now. But, again, Chris knew that. It wasn't a secret to him. He decided to take the risk to go there. It is not something they did to him. It is something he took on himself."


"Perhaps if Congress had provided a budget to increase security for all missions around the world, then some of the requests for more security in Libya would have been granted. Certainly the State Department is under budgeted."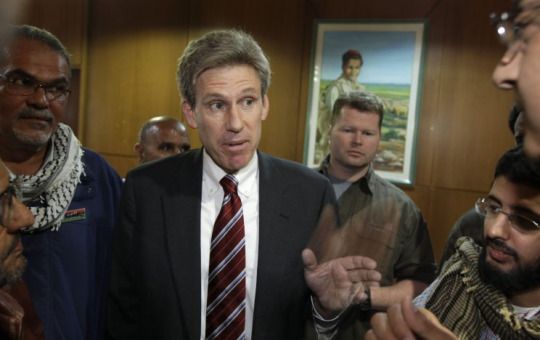 (Chris Stevens in Libya, 2011 - image from AP)

With the Republican-led House of Representatives having just completed yet another Benghazi investigation, one that again found no negligence on the part of Secretary Clinton (see our earlier story, "House GOP Panel Admits Benghazi Rumors are Not True", for a summary of the previous investigative report issued by a GOP-led House panel), Dr. Stevens was asked about the latest report:

"It doesn't look like anything new. They concluded that the U.S. compound in Benghazi was not secure. We knew that.

It would be much more useful for Congress to focus on providing resources for security for all State Department facilities around the world-for increasing personnel, language capabilities, for increasing staff to build relationships, particularly in North Africa and the Middle East. I would love to hear they are drastically increasing the budget."

Does the Stevens family feel the investigation has been politicized? "Yes! Definitely politicized. Every report I read that mentions him specifically has a political bent, an accusatory bent."

Unfortunately, we have to agree with Dr. Stevens and many objective Republicans. Rather than addressing issues such as the country's deteriorating infrastructure, the staggering amount of student loan debt, or the stagnating middle class, the House has wasted a year and a half and $7 million dollars of taxpayers' money performing a redundant, politicized investigation that yielded no new information.