When Will the GOP Fix Our Nation's Infrastructure?

Update: August 2016 - Both Hillary Clinton and Donald Trump are proposing that the United States spend hundreds of billions of dollars on infrastructure projects. As long-time proponents of such spending, we agree. Investing in our nation's infrastructure creates thousands of jobs and has a rippling, positive affect on the economy, both in the short-term and for the long-term.


The question, though, is will the anti-government spending crowd in the Republican Congress buy into either plan? So far the answer has been no, despite years of Democratic proposals to address our crumbling infrastructure. Either for misguided philosophical reasons or for the more shameful motive of not wanting to stimulate the economy while a Democrat was in the White House, these proposals have gone nowhere with the Republicans.


Consequently, we believe this is another important reason to flip both Houses of Congress this fall in favor of the Democrats.



Update: November 2014 - Earlier this month, the CBS television show "60 Minutes" ran a story on this topic, which featured specific examples of needed repairs around the country, many of which are "shovel ready", just waiting for funding to be approved. Let's hope this story helps put pressure on our friends in the House of Representatives who haven't been willing to address the issue since they took power after the 2010 elections.



March, 2014 - It's no surprise to most of us that America's infrastructure, meaning our roads, bridges, dams, power grids, airports, water treatment facilities, etc., is in serious disrepair. Recent studies from the American Society of Civil Engineers estimate that it would cost $1.1 trillion to restore our infrastructure to acceptable levels by 2020.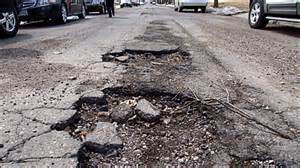 (image from minnpost.com)

It's also no surprise that the primary reason nothing has been done about this problem since the fiscal stimulus plan was passed in 2009 is because House Republicans won't fund the necessary repairs. Their opposition is twofold:
Congressional Republicans in both Houses of Congress have made it clear that they will do nothing the President wants nor do anything that potentially could make the Democrats look good. Even when there is a consensus that a measure is desirable.


Virtually every Congressional Republican has signed a pledge of allegiance to Grover Norquist stating they will not raise taxes under any circumstances, including paying for wars, national emergencies, etc.
Infrastructure spending is one of the best ways to stimulate the economy which, of course, is another reason the Dems have been advocating this for years. And which is why the GOP has been opposed to it. Not because they don't agree there are serious problems to fix, but they don't want the Democrats to get credit for the boost to the economy that would result.


Furthermore, if any Republican voted to raise taxes to pay for it, Grover Norquist and the handful of billionaire aristocrats who run the Republican Party would fund an opponent to run against them in their next Republican primary.


Will these guys and gals ever grow up and just do what is right for the country instead of doing what their big money puppeteers tell them to do? If you live in a district with a Republican Congressman, please write to them and let them know you support infrastructure spending. And if they don't support it as well, then they won't be getting your vote in the next general election.